Acc Bank Electronic Trial

Long before the Ennis trial card held in Ennis Co. Clare another smaller scale trial was taken place in Dublin. In October 1994 the Agricultural Credit Corporation (ACC) conducted a trial of a smart card or electronic purse. This could not be used in Telephones so is not a phonecard and was given to various employees throughout the organisation.

In similar fashion to a banking ATM card, the card was personalized with the card number, bank sort code and the cardholders name and the issue date of the card. However the main difference between this and a standard ATM card was the fact that as well as a Gemplus GP2 chipset on the front the reverse of the card had a fully functional magnetic strip. This type of card is known as a hybrid card.

There was a total print run of 1000 cards most given out to employees where free credits was downloaded onto each card. A competition was also held where a prize was given out to the person who used the card throughout the trial most often.

The card was issued in a grey walley which came complete with instructions on how the card could be used and where it could be used. The trial was however extremely limited and was only used in one Newsagent, a small garage and two ATM machines.

Two special ATM stations were setup where money could be loaded onto the card, balances read, viewing of last ten transactions or change your pin number. The advantages of this card was that it was linked directly to your own bank account and you could automatically transfer cash onto it from atm's.

This trial proved to be a great sucess however it hasnt been followed up since by ACC. Pictured below is the front of the card, however I am currently looking for an image of the reverse side so if you can help then please get in touch.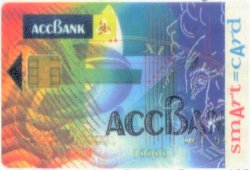 ---
Copyright 2003 Steven Hanley