The Global Chipcard Alliance Phonecard Pack.
The Global Chipcard Alliance was founded in October 1996 by US West Communications, PTT Telecom Netherlands/Unisource, GTE, Bell Canada and Telekom Malaysia. It now has nearly 20 members, committed to worldwide interoperable networks, increased chip card functionality and widespread installation of terminal systems.
The Global Chipcard Alliance is a cross industry, non-profit organization with a vision that in 5 years from now, chip card users will be able to access their personalized applications and solutions where ever they are in the world.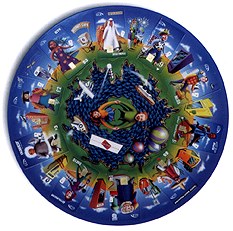 To mark this very special occasion, The Global Chipcard Alliance has designed this limited edition phonecard pack consisting of 10 cards from around the world to reflect the ongoing co-operation of all the companies involved in chipcard related business. A long with a Telecom Eireann Callcard there are also cards from BT (Great Britain), KPN (Netherlands), Deutsche Telekom (Germany), SPT Telecom (Czech Republic), Telecom Malaysia (Malaysia), Bell Canada (Canada), GTE, US West (America) and Telstra (Australia).
A total number of 7,000 cards have been minted to mark this occasion of which only 700 will be sold in Ireland to members of the Telecom Eireann CallCard Collectors Club
Card Details :
| | | | |
| --- | --- | --- | --- |
| Card No: | Date | Quantity | IR£ Price |
| 1234 | Released 01.04.99 | 7,000 | £30.00 |
If you'd like some more information on the Global Chipcard Alliance
then why not check out there website at the following address: www.chipcard.org
---
Copyright 1999 S.C.C.C.