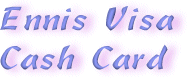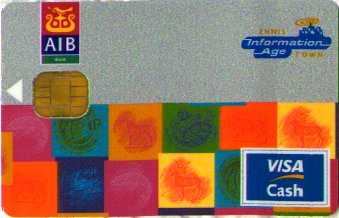 Front view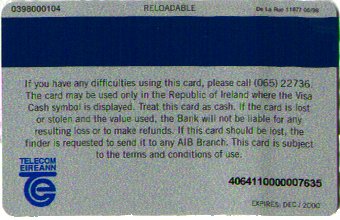 Reverse View
WHAT IS VISA CASH?
Imagine being able to make cash purchases with a card! Well now you can, in Ennis witha Visa Cash Card. The "easy to use" Visa Cash Card allows you to pay for everyday items like bread, milk, newspapers, parking and so on without having to carry large amounts of change.
HOW DO I USE VISA CASH?
Visa Cash is a simple alternative to cah - not unlike a phone card. Your Visa Cash Card can store value up to a maximum, of £50. Your card balance will be displayed prior to every purchase and every time you use your card the balance will reduce by the amount of the purchase. You will always know your card balance as it will be displayed before and after you use it. The Visa Cash Card can be used in not only in card phones but also in Pay & Display parking machines, vending machines and numerous retail outlets throughtout Ennis - in fact, anywhere you see the Visa Cash logo.
WHAT ARE THE BENEFITS TO ME?
Visa Cash is the convenient way to pay for your everyday purchases. No need to worry about having the exact change or getting the wrong change. And when the value on your card has been spent, simply load it directly from your bank account.
HOW DO I LOAD MY VISA CASH CARD?
You can load your Visa Cash Card by inserting it at any of our Visa Cash load devices located around Ennis and following simple instructions.
HOW DO I GET A VISA CASH CARD?
Simply call into your local Ennis branch of AIB or Bank Of Ireland to pick up your Visa Cash Card. The branch staff will be happy to answer any questions you may have.
1. O Connell Square

2. Bank Of Ireland O Connell Square

3. Bank Of Ireland
O Connell Square(In Branch)

4. Abbey Street Car Park

5. Friary Street Car Park

6. Temple Street Car Park

7. Market Street Car Park

8. Bank of Ireland,
Bank Place(In Branch)

9. AIB Bindon Street
(In Branch)

10. Parnell Street Car Park

11. FAS, Parnell Street

12. Telecentre Market Square

13. Dunnes Shopping Centre

14. Poet's Corner - The Old Ground

15. Bindon Street Car Park

16. Woodquay Car Park

17. Downes & Howard Statoil Station,
Mill Road

18. Tesco Ennis Shopping Centre
---
Copyright 1999 Steven Hanley