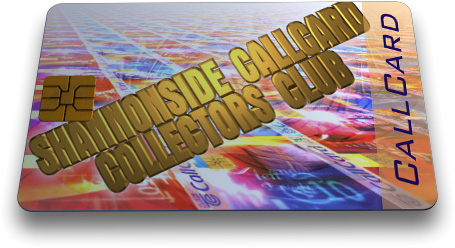 Over 19 Years In Service
---
Welcome to The ShannonSide Callcard Collectors Club WebPages, a site that is totally devoted to bringing you the collector news and other information regarding Callcards and the collection of Callcards as a whole. This Page has been designed with a user friendly interface and we hope that it provides you with all the information you need on the collection of Callcards.
If it's not in here then hey it must be only just a rumor you heard as this is the place that you'll find all the information regarding new Irish releases first. The ShannonSide Callcard Collectors Club has held many mini markets over the years and over this time we have become aware of the difficulty in finding information on new and old releases. This is why we have introduced these pages and we hope it will help you the collector on your quest!!!
This site has been brought about to help share information about Irish Callcards with people around the world, especially as Ireland has proven to be one of the most popular Callcard producing countries in the world.
Here on the left of this page you will see the navigation bar containing the various links to the various pages associated with this site. I hope you will find this an easy site to use and Id like to take this opportunity to ask you to E-Mail me about any ideas you may have on what you'd like to see on these pages in the future.
If you don't find all the information you need then please feel free to contact me at : shank@iol.ie and I will do my best to answer any query's you may have.
New areas are constantly been added so please bookmark this site now and remember to check back on a regular basis.
Since 08.10.98
If you'd like to contact me then please do at the following address

---
All information on this site is copyrighted and can not be reproduced

in any form without prior permission of the S.C.C.C.

© 1998 - 2017 Steven Hanley.
---